WE WANT YOU! ... To take the stairs today!
We want YOU to take the stairs today!
Today, January 9th, is National Take Stairs Day and in honor of the day BSP Insurance is challenging everyone to only take the stairs for one whole day.
Aside from creating a fun challenge for yourself to only take the stairs for a day, where elevators and escalators are never far, it is also a lot healthier for you than you may think. The primary goal of National Take Stairs Day, is to encourage us to improve our health by leaving the elevator behind, and walking up the stairs. Walking up and down stairs, instead of the alternative, is a non-impact activity that 99% of us can do. It helps us tone our muscles, maintain or even lose weight, and contributes to cardiovascular health.
DID YOU KNOW? A 160 pound person who climbs for 3 minutes, expends approximately 30 calories. It is seriously as easy as that.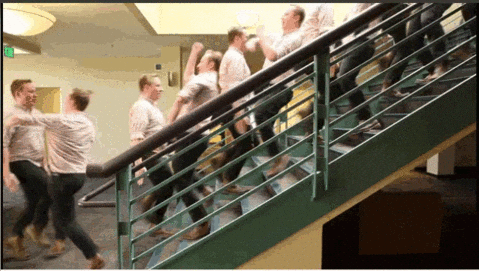 If that doesn't convince you enough, here's 8 more reasons why taking the stairs is beneficial not only to your physical health but your mental health too.
Climbing stairs helps you burn more calories every minute as compared to jogging.

Climbing stairs helps our body produce endorphins – the hormones known for creating a sense of happiness in our mind.

Climbing stairs helps you lose weight!!!!

Climbing stairs is a great form of cardio exercise. While climbing stairs, you work against gravity lifting your entire body. This activity strengthens your leg muscles making it a rather strenuous exercise.

Climbing stairs helps you improve your heart rate and health. The consistent movement of your legs and hips results in deeper breathing increasing your heartbeat, which then leads to increased blood flow in all of your body.

Climbing stairs leads to stronger joints and muscles, and who wouldn't want that?!

It is proven and recommended by doctors, climbing stairs is an ideal way to improve your energy, develop your immune system, and lower your risk for diabetes, high blood pressure, osteoporosis and heart disease!

Climbing stairs is by far the most convenient form of exercise which reaps great results and there is no equipment cost at all!
C'mon ladies and gents, let's do this together. It's 2019, the year we all become healthier and happier and by taking the stairs today, it's a STEP (wink wink) in the right direction! The year we say, "I can do this!"
#2019 #stairs #exercise #NationalTakeStairsDay #January9 #January #resolutions #BSPInsurance #CTInsurance #MeridenCT #body #mind #workout #workingout #happy #healthy