How To Protect Your Home From Flooding
We all know the saying, "April showers bring May flowers", but do you want April showers to bring you a flooded house? We don't think so.
If you live in a flood-prone region, or even if you don't, it's crucial to plan for a flood now before the bad weather strikes and it's too late. A flood can cause an extreme amount of damage to your home, therefore misplacing your family and a lot of your beloved items. It's so important to take floods seriously because they can happen to anyone at anytime. You don't want it to happen to you, especially when you are unprepared.
We've done the research for you and have found six things you should do to prepare your house for a flood, should one ever occur.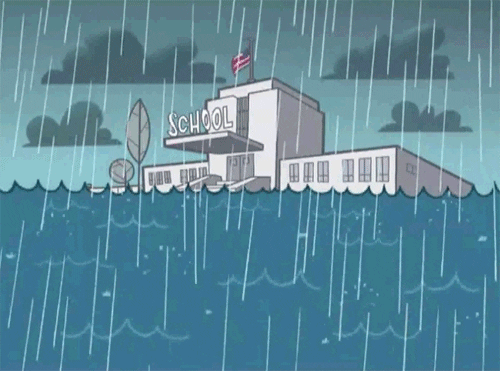 Elevate Electrical Components

Electrical sockets, switches and wiring should be elevated at least 12 inches above predicted flood levels. This reduces the amount of damage a flood can cause to your home, and it prevents your home from becoming a safety hazard during the recovery period.

If you have a fuel tank in your basement, be sure to anchor it. An unanchored fuel tank can cause serious damage, such as tearing the supply line and spilling oil.

Waterproof Your Basement

Waterproofing your basement typically requires a large sum of money, but this investment pays off if you live in an area that is frequently flooded. Along with waterproofing, set up a sump pump in the basement and a battery-operated backup in case the power goes out during the flood.

Pay Attention to Flood Alerts

You can elevate electrical components and waterproof your basement long before a flood strikes, but some preparation has to be done in the days or hours leading up to a flash flood. Pay attention to the weather, and take flood alerts seriously.

A Flood Watch will be issued when the conditions are right for flooding. This is a good time to protect furniture and important documents. Remember to take action the moment the watch is issued, though, as you'll want to start evacuating before a Flood Warning occurs.

A Flood Warning means that a flood is happening now or going to take place soon.

Move Furniture and Other Valuables to a Safe Place

Once a Flood Watch occurs, move furniture, valuables, and important documents to a safe place. Copies of critical documents like birth certificates or insurance policies should be stored in a waterproof safety box.

Keep in mind that this step should only be taken if you have time to safely evacuate your family. If the flood is likely to occur soon, forget your furniture and head to higher ground.

Pack an Emergency Kit

Store an emergency kit — one you can use after evacuating or when trapped in the house — in your home at all times. This kit should include at least three days' worth of water and food (including 1 gallon [or 4 liters] per person per day), along with essentials like:

Flashlights

Medications

Copies of personal documents

Cell Phone with chargers

Visit the American Red Cross to see the full list of supplies to include in your flood safety kit.

Purchase Flood Insurance

Regular homeowner's insurance does not cover flood damage costs. If your home is located in a flood-prone area, it's a good idea to also purchase flood insurance, which is available to homeowners through the National Flood Insurance Program.
Number 6 on the list is the most important because even if you take all the correct precautions to protecting your home against flooding, it can still happen, ESPECIALLY when you live in a flood-prone area. People living near rivers, oceans, lakes, or any body of water should absolutely have flood insurance.
Now some may ask, "Isn't a flood covered by my homeowners insurance?" the answer to that is NO.
Getting flood insurance is it's own purchase entirely. It is the smartest decision to make in protecting your family, pets, and home you've worked so hard to own that's filled with memories you've worked so hard to create.
That's where we step in. At BSP Insurance we will gladly give you a FREE flood insurance quote by clicking here. We will also happily answer any questions regarding flood insurance that you may have. We want to help you and your family in any way we can. With us, you are worth more than 15 minutes.
If you want to read more about how to prevent home flooding, click here.
#CTFloodInsurance #floodinsurance #flooding #floods #flood #BSPInsurance #MeridenCT #CTInsurance #InsuranceDiscounts #water #damage #waterdamage #wet #naturaldisaster #disaster #rain #storms #March #April #May #waterproof #floodalerts #emergency #freequote #free #freeinsurance #prevent